How to get more connects on Upwork- Free and Paid
How to get more connects on Upwork:
In Upwork, you need connects to bid for a project. Connects are like coins. You need coins to bid.
You are either an individual freelancer or agency, for each bid, connects are required.
Connects play an important role in maintaining the platform free from spammers. Each project bidding requires connects and people will think twice before applying for a job.
Ways to get connects:
You can have connects in three different ways. You can buy connects, you will get free connects monthly and you can also earn connects.
How to earn free connects in Upwork:
Upwork provides free connects for:
First registration. You will get a total of 80 connects. 40 after your registration is done and 40 more after you complete Upwork rediness test.
If you win an interview and the client replies to you, you will get 10 connects. You can get 50 connects at max in 7 days.
You can also appear on skill certification test. You will earn free bonuses if you complete a skill certification test.
If you earn any of the talent badges like rising talent or top-rated or top-rated plus or expert-vetted-talent, you will earn connect bonuses.
Upwork provides free connects from time to time. You will get one promo code on mail and you can add these to your profile.
You will also get free connects each month. Freelancer basic accounts gets 10 free connects each month and Freelancer plus accounts gets 70 free connects each month.
How to buy connects in Upwork:
Once you exhaust all your connects, you can also buy more at $0.15 USD each.
Go to Settings -> Click on Memberships and Connects -> Click on Add More Connects
It will show you a screen as like below: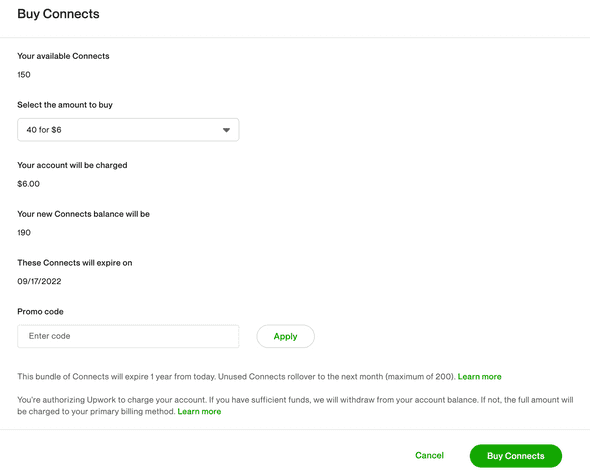 You can select the amount of connects you want to buy and that amount will be charged from your account.
This bundle will be expired after 1 year.
These bundles are sold in 10, 20, 40, 60, and 80. For agencies, it is also available in 150 and 300. Note that, you might not see all bundles if your account already has a few connects.
When connects are not used:
Connects are used if you are applying for a job. Each job requires different connects. But, connects are not required if:
Client invites you to bid on a project.
Client sends you an offer.
If you are sending a proposal within an enterprise talent cloud.
When client is purchasing your project from project catalog.
Long-term clients can get back to you if they were satisfied with your last job. Your connects won't be used for that.
How to check your current connect balance:
Connects are shown on your home page. Got to find work page and you can see the connects below your profile on right side of the page.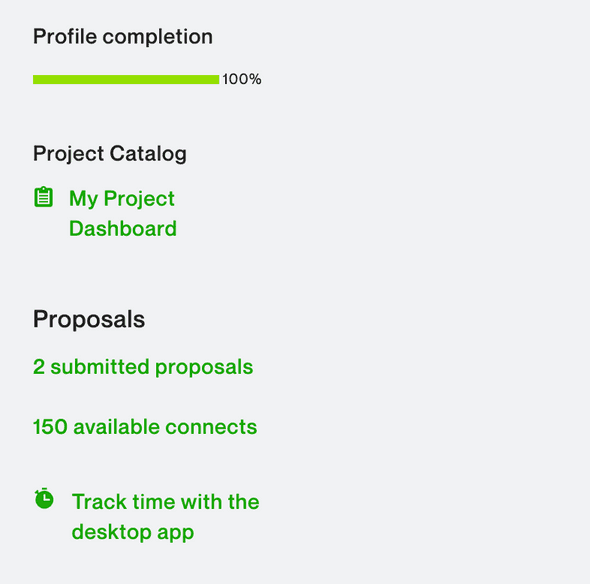 What happens to unused connects:
Unused connects are rolled over. For freelancer basic and plus accounts, maximum rollover limit is 200. For agency basic and plus accounts, it is 400.
Paid connects are used first, then free connects are used. Unused connects expires after one year.
What is the expiration date of connects:
Yes, connects has expiration date. After one year from the date of issue, they expire.
---