How to delete your Fiverr account
How to delete your Fiverr account:
Do you want to delete your Fiverr account? Before you read further, let me ask you the reason behind this. Is this because you are getting tired of freelance lifestyle? Or, is this because you are moving to a different platform or maybe you are not getting any jobs?
Whatever this is, I would suggest you rethink before you delete the account. There are other freelancing websites and you can also get direct offers from other clients, but it is not bad to keep one account in Fiverr.
Learn from my mistake:
I made a similar mistake with Adsense. For one of my websites, Adsense was approved long before in 2014. In 2018, I thought of moving it to my wife's name. In my country, if you want to move Adsense account to a different user, you need to disable the account first for the current user and then you need to reapply.
I closed the account, reapplied, but it got rejected !! That website had 100K+ traffic and all articles were original, not copied from anywhere. I asked that in Google Adsense forum and got to know that websites in that niche are not approved anymore.
This exact thing can happen with Fiverr. What if in the future Fiverr become more popular than all other websites and they added too many filters and interviews before approving any application?
You will regret today's decision!
I have created accounts on many websites and got premium offers just for early users. For example, I am using premium Notion and Feedly without paying anything monthly. They upgraded my account because I was an early user.
If you are not paying monthly, it is not a wise decision to close any account on popular websites. Unless you have some other specific reason.
Options to delete your Fiverr account:
There are two options available for you: One is to close your account temporarily and another one is to delete it permanently.
If there is a chance that you will come back to Fiverr, then you can choose to temporarily close your account.
How to close your account temporarily:
Before you close your Fiverr account, make sure that:
You don't have any available funds, i.e. you can't have Earned revenue or Fiverr balance. You need to withdraw or refund the money before you close your account temporarily.
If you are thinking about opening a new account, make sure to change your username and email address before closing the account. You can't reuse these on a new account.
Temporarily account closing will not remove public pictures, messages, and feedbacks from your account. These will remain public.
All your active orders will be canceled.
Your profile will be deactivated and all your gigs will be deactivated.
Steps for temporarily close:
Log in to Fiverr.com, click on your profile picture and click on Settings.
It will redirect you to the settings page. This page has the Account Deactivation option. Click on Choose a reason button, it will show you a couple of options. You need to select one of these.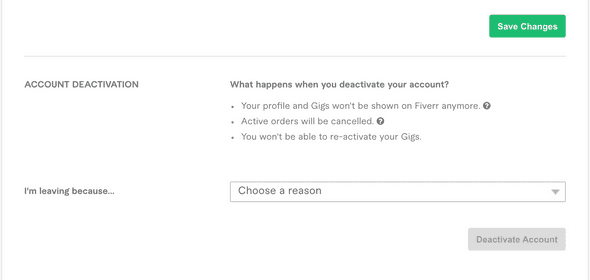 Once you click on any option, it shows another text box to get your feedback. This is optional. Click on Deactivate Account and it will deactivate the account.

How to permanently delete your account:

The above steps will close your account temporarily, i.e. you can get back your account if you want it later.
To delete your account permanently, you need to contact Fiverr customer care. Only Fiverr support team can delete an account permanently.
If you delete an account permanently, you need to close your account first as mentioned above. Only a closed account can be deleted.
Make sure to change your username and email before you raise a request for delete
Withdraw all your available fund.
---