How to create an account on Fiverr as a Freelancer
How to create an account on Fiverr as a Freelancer
Fiverr is a freelancing platform that you can use to sell your skills. It is one of the most popular freelancing platform and also it is easy to get started.
Creating a good account on any platform is important to get sales. Fiverr is a freelancing platform where you are not applying for any listed job, but instead, buyers will search for sellers. So, it is important to learn how professional your account looks and it is _ optimized_ for the search algorithm or not.
Every day, thousands of people join Fiverr as a freelancer. Thousands of profiles get created. So, you need to create your profile in such a way that the Fiverr algorithm loves that.
In this blog post, I am going to share a couple of points and tips that will help you to start your freelancing journey in Fiverr.
Before you start:
It is always a good idea to analyze your competitors before you start anything. You can search on Fiverr to find out what other people are doing and note down all points that you think you can use in your profile.
You can search for any freelance service in Fiverr without creating an account.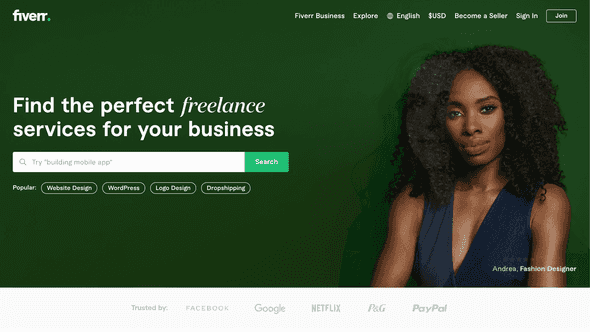 If you go to fiverr.com, you will find the searchbar on its homepage. You can search for the niche you are going to compete in this search bar without creating an account.
For example, if you are a technical writer, you can search for technical writing and it will show you all services available for technical writing. You can use the filters Category, service options, seller details, budget, delivery time etc. to check for different profiles, and also you can use the sort by filter to sort for new, relevance, or best selling gigs.

In this way, you will get an idea of how to fill in the details in your profile.
Now, let's move to the process to create your profile:
Create your profile:
Go to fiverr.com from your web browser and click on the Join button that is at the top right corner of the web page.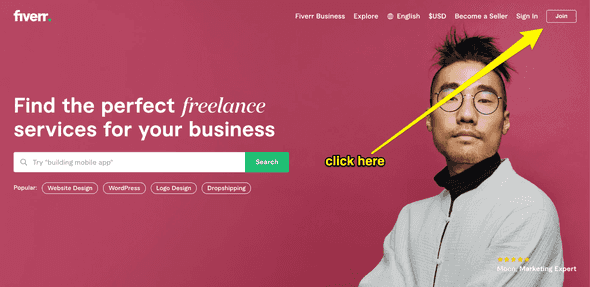 It will show you a couple of options you can choose to create the account: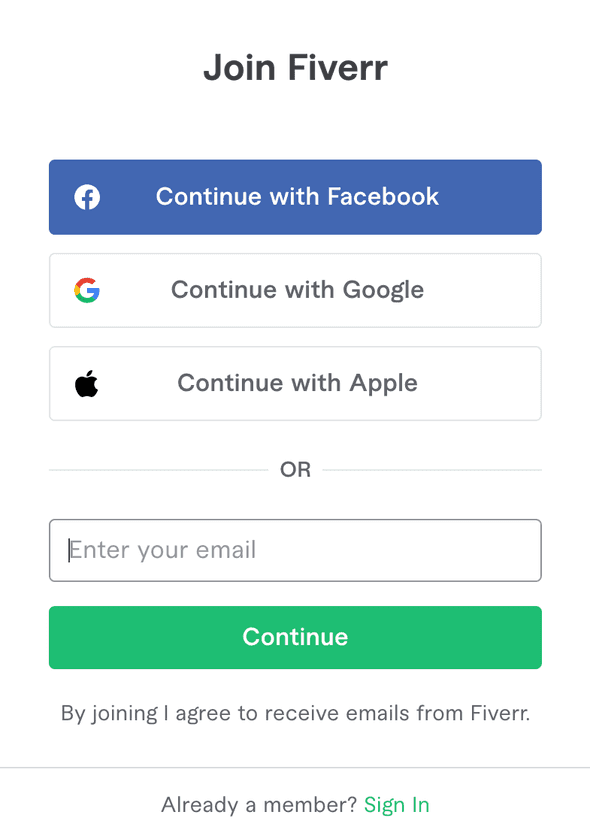 In this post, I will show you how to create one account using an email. But it will be easier if you create your account with Google, Facebook, or Apple because you don't have to remember a password and you can use that account to log in to Fiverr directly.
Once you enter your email and click on continue, it will ask you to enter a username and password.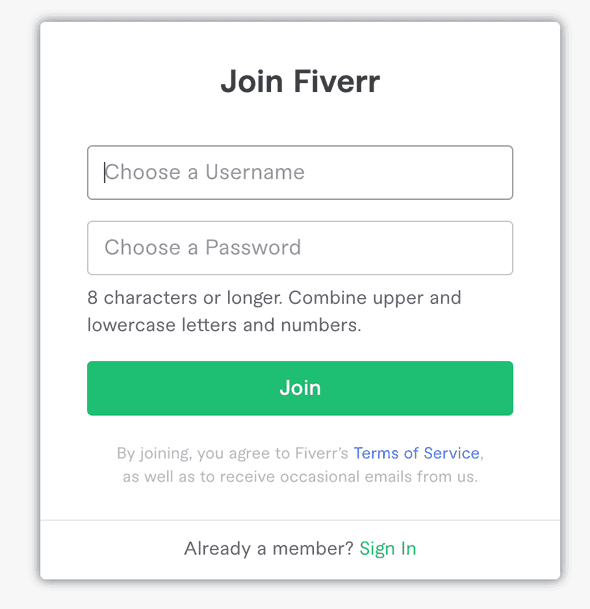 Make sure to give a unique username that includes your real name. This will make your profile looks like the profile of a real person.
You can also use your niche keywords with your user name, like johnseowriter or johncopywriter etc.
Choose a strong password. Make sure to combine upper, lowercase letters, numbers, special characters and make it at least 8 characters long.
Once these steps are done, click on the Join button. It will complete the account creation process and move to your account page.
Verify your account:
One more small thing you need to complete if you are using an email to create your account. Fiverr will send one verification email to your email account. Open your email inbox, click on Activate your Account and done. You are ready to start!
If you can't find your email in the inbox, wait for a couple of minutes and also, check your spam folder.
Profile Creation:
Once all are done, you can start building your profile. The more your profile is completed, the more it looks legit to the buyers.
Below your profile picture in your account, there is a button called Preview Public Mode. You can click on it to see how your profile will look to buyers or other people.

Make any change to your profile, click on this button and ask this question to yourself will you buy anything from this user if you were a buyer? When the answer is yes, you are done with the profile creation part.
a) Add a profile picture:
The profile picture is the most important part of a freelancer's account on any platform. This will say that you are actually a human or not. Nobody will give any task/money to a stranger on the internet if it looks spammy.
Upload a high quality profile picture of your own. Take it in a good lighting environment, with a solid background.
b) Add your story/bio:
Click on the edit button below the profile picture and add one catchy line to say what you are offering. You can search for other freelancers in your niche to check how they are writing this to get an idea.
c) Profile description: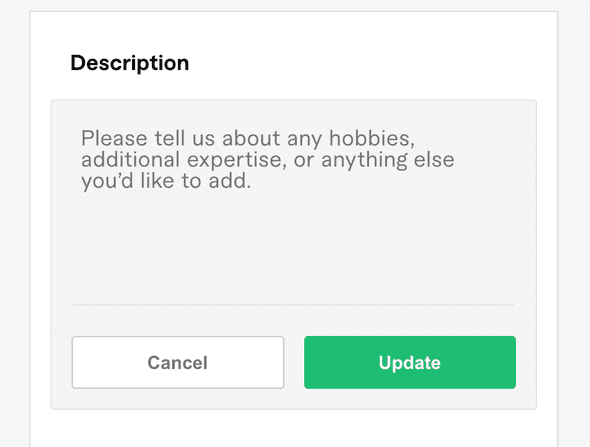 Add a little bit about yourself, about your skills, your past experience, etc. Make it short and easy to understand. This appears below each gig you will offer. So, there is a high chance that buyers will read this.
d) Language and social accounts:
This part is to fill the about the languages you know.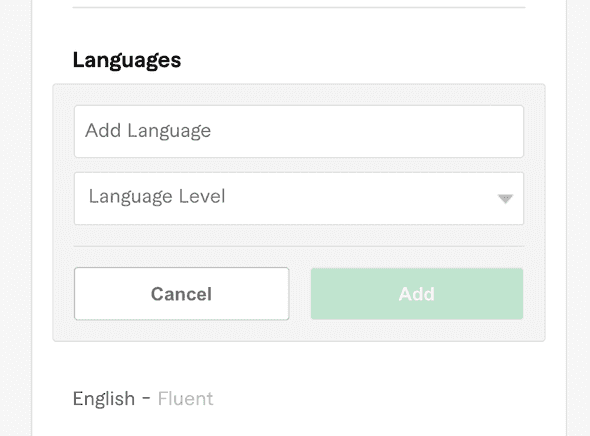 You can add a language with its level. The level can be Basic, conversational, Fluent and Native/Bilingual. You can add all languages you know in this section.
c) Social media accounts linking:
The next section is to add social media accounts. This part is important to show that a real person is behind this account. It also helps in gaining visibility in search terms.
One thing to point here is that buyers will not be able to click on these accounts. This will only show in the profile that these accounts are linked. But no one can go to your Facebook profile or any other profile. You can also click on the Preview Public Mode button to see how it looks.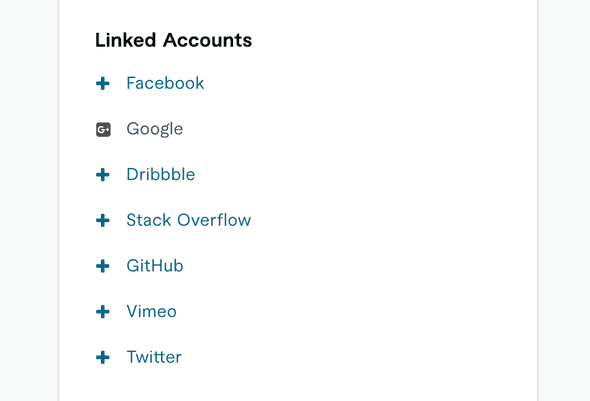 To link any profile, click on any of these buttons, login to that website, accept the permission, and done. It will automatically verify your account and link it to your profile.
d) Skills, Education and certification:
Next, add your skills, education and certifications if you have any. Add those skills which are related to your niche or your service. You can click on the add new button to add skills. Once you add a few skills, Fiverr will automatically recommend other skills to make this easy for you. For each skill, you can add the Experience level. It can be Beginner, Intermediate or Expert.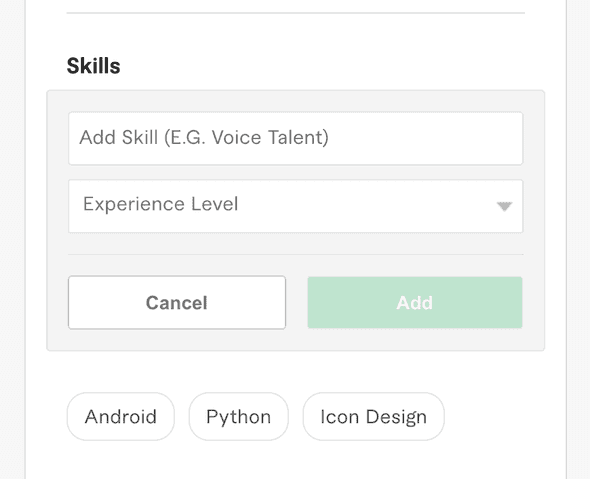 For education, you need to select the country, College/University name, Title, Major, and Year of graduation.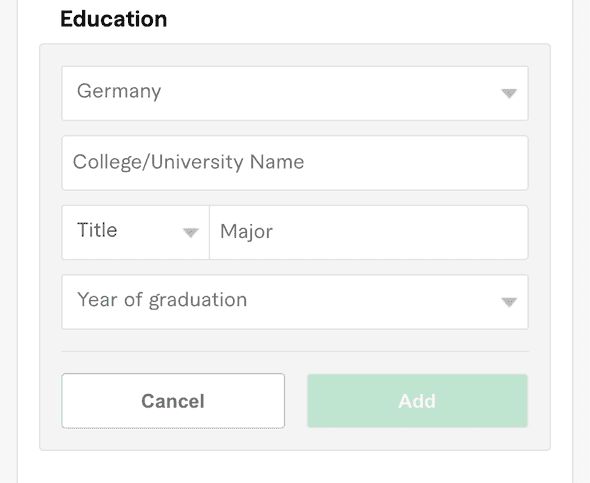 You can select College/University Name from the listed data. It already has pre-filled data of colleges for each country.
The last part is the Certification. To add one certificate, you need to give the certificate name, name of the organization who provided this certificate, and year.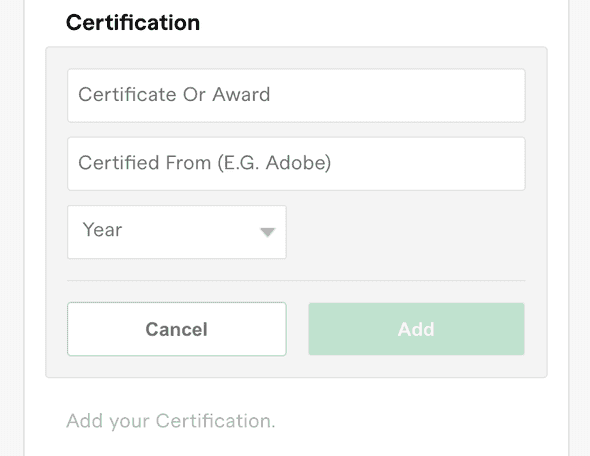 That's all. Your profile is ready and you can start listing your Gigs.
Conclusion:
No one can say what a perfect profile looks like. You need a profile that is loved by both buyers and Fiverr algorithm. Try to fill in as much information as possible. Also, you can search for top freelancers in your niche to get an idea before filling in the data. Profile creation is equally important as a gig. This is the first step on this platform and try to make it perfect 🤩
---