5 best freelancing sites to start Freelancing in 2021
5 freelancing sites to start your freelancing career in 2021:
I have started freelancing in 2014 and it took me around 1.5 months to get the first job. A guy was asking for a review on his android application. I did it for 2$ :) on Upwork.
BTW I had a day job and I was applying for projects only once a week. That was the beginning, slowly I got 4-5 5 star reviews and started getting clients more easily.
Once my earning was above 1000$ on my profile, it became really easy to get jobs. At least for almost all jobs I sent the application, I got an interview.
There is no single recipe to get success in any freelance platform. Getting your first job is the hardest part of all.
The best way to start freelancing is by building a Portfolio of your works. Always make sure to prepare a good portfolio before joining Fiverr or any other freelancing platform. Without a portfolio, no one is going to believe a random internet stranger.
In this post, I am listing down top 5 freelance sites that I found useful and that I used. Starting something is the key. It takes time to get success but we have to start a little for that.
1. Fiverr :
Fiverr jobs start from five-dollar, this is where it got its name. You can showcase your portfolio called gig with a tagline and people will assign you tasks if they like your gig. I find it easy to get started on Fiverr. Don't think that this is only a five-dollar job website. You can add gigs with any amount you want.
You can add-on packages for each gig on Fiverr. For example, you can add one gig to write 500 words for 5$. One add-on 2$ more for 700 words. 8$ for 1000 words. Most of the clients will prefer to go with the 8$ package. This increases the possibility of getting paid higher.
The first contract takes time. For anyone. Don't set your price too high in the beginning. Set it low and try to collect good reviews. The first review matters a lot. Try to get one 5 stars.
You have to learn how to research competitors, how to deal with multiple projects, deadlines, and communication. Fiverr is a good place to start your freelancing, but honestly, it is not a great place to make any liveable income. I would recommend you to do Fiverr freelance on the side. Make it a side income of your side incomes.
Pros:
The best part of Fiverr is that you don't have to pay anything to start. It is free to start.
It follows a two-way process. Either you can start creating your gig, sit back and relaxed or you can find a buyer's request and submit your offer.
Almost any type of gig you can create. Starting from graphics design, digital marketing, writing, business, lifestyle, programming, audio/video/photo editing, etc.
Cons:
It is difficult, extremely difficult in some cases to get the first job. The main problem is that there are a ton of other peoples waiting to offer the same job at much lower pay.
Low pay if we consider the efforts on an hourly basis.
No contact outside of their platform.
2. Upwork :
Upwork is a professional freelancing website. You will find a variety of clients who are looking for freelancers including many big companies. You need to apply for jobs from their dashboard to get hired. If you want serious work, you can give it a shot.
The account creation is not as easy as Fiverr. They have an automated and manual verification process. If your application got rejected, you are allowed to try again in the future. Even if your profile is approved, you will require to sit for a face to face interview with someone from their team.
Don't worry too much about the interview. It is easy and takes only a couple of minutes. They just verify that you are a real person and you know what you are going to do.
Before you create one profile on Upwork, make sure to make an impressive portfolio of your own. In the recent past, they have tightens the approval process of certain categories as they already have a lot of them.
Upwork charges 20% for the first 500$ billed with a client, 10% for lifetime billings with a client between $500.01 and $10,000, 5% for lifetime billings with a client that exceeds $10,000. That is pretty high than other platforms.
The first job is tough to get. Without a profile rating or review, it is hard to find someone who will offer you a job. But if you are good at what you do and you have one impressive profile and portfolio, luck will work in your favor.
To submit a proposal for a job, you need 'connects' or points. For each proposal, it is different. You can buy 10 for 1.5$, 20 for 3$, 40 for 6$, 60 for 9$ and 80 for 12$. Maximum 140 connects you can have at one billing cycle.
Once you apply for a job, you can't get back the connects even if you don't get this job. Upwork introduced this process to weed out those freelancers who are not serious about their job or who aren't qualified for the job.
Pros :
Upwork provides two different types of jobs: hourly and fixed price. I prefer hourly as it pays based on how many hours you worked. Upwork provides a desktop application that runs in the background and keeps track of how many hours you worked. It takes screenshots of your laptop randomly when one job is active.
Easy and safe billing process. Upwork takes the money from a client and keep it once the job started. Once it is completed, it releases the money to your account.
Feedback to the client. You can provide feedback to a client once the job is completed. It is helpful for other freelancers who will apply for other jobs for that client.
Cons :
Hard to get into. The screening process is tough and they stopped accepting new freelancers on certain categories.
Connects. As a beginner, you need to buy some connects first to bid for your first project.
Getting the first job is tough as the competition is high.
High charging fee. Upwork charges 20% for the first 500$ billed with the client. 10% for lifetime billings with a client between $500.01 and $10,000. 5% for lifetime billings with a client that exceeds $10,000. So, if you earn 100$, you will get only 80$. Also, you need to buy connects to apply for a job. But the positive side is that your take-home earning will increase if you keep working with the same client for a long time.
3. Toptal :
Toptal is best for highly skilled freelancers. If you are a software developer, designer, finance expert, product manager, or project manager you can apply on their site. They have one screening process and as per them, they hire only the top 3% of talents. You must be fluent in English to get approved on this platform.
You need to set your hourly rate. Hourly rate is different for developing and developed regions. They will recommend to you how much rate you should add that can help you to compete with other freelancers.
Their filtering process may not be 100% accurate, but it does have one filtering process and that makes them different than any other platform.
Pros :
Toptal's screening process makes it more reliable for clients. It saves the client's time to find a good person.
You will get paid more than any other freelancing site. On Upwork and Fiverr, you will compete against other peoples who are willing to do the same job at much lower rate.
Cons :
It is hard to get selected. Their screening process is hard to cross.
4. PeoplePerHour :
In PeoplePerHour, you can apply for jobs and add your hourlies. Joining is easy. You need to complete one online application form and wait for it to get reviewed by their team. You can even check for the jobs posted on their website without login. Go to PeoplePerHour, click on search on top and click on search project.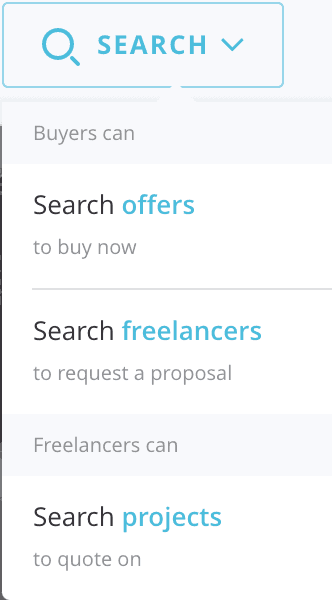 You can also search for all hourlies posted by different freelancers and other freelancers profiles without logging in to the system.
Pros:
Cons:
Since it is easy to get in, it attracts most scammers and that makes the clients trust new freelancers. So, it is hard to get your first job.
High fees are taken from your payment. It is 20 percent.
Too much competition. For each job post, I have seen an average of more than 10 proposals.
5. Guru:
Guru is another website that is good for beginners. Entry on this site is easy. Also, without login into the site, you can search for Jobs. The job count is lower than Upwork but you can keep one account on this site. If you are lucky, you will find some long term clients on Guru. It depends on your freelance domain and your portfolio as well.
Pros:
Cons:
Not much popular like Upwork or PeoplePerHour. So, the number of works is low as compared to other websites.
Conclusion:
In short, wherever you go, you will have to fight for the first job. But it becomes easier to get new offers after you get a few good ratings.
Freelancing sites are good for beginners, but I always suggest to connect with people directly. If you connect with similar-minded people, finding a client will become much easier than you think.
---